15 Parks and Zoos in the United States to Get Your Animal & Coaster Fix!
Let's face it. We hate to admit it, but roller coasters aren't for every member of the family, and there are people who would rather visit another family attraction like a zoo or aquarium. According to the Association of Zoos and Aquariums, over 181 million people visit U.S. zoos and aquariums it accredits each year, which is more people than go to the games of the four major american sports leagues (NFL, NBA, NHL, MLB) combined.
What people might not realize is that there are just about the same amount of operating zoos and aquariums in the United States (~436) as there are amusement parks (405). Another thing that people might not realize is that there's a number of places in the United States where you can get the best of both worlds — you can walk around and see animals and/or fish and you also might be able to find a coaster credit along the way.  In case you're traveling with a family member who isn't "into" roller coasters and would prefer to spend their recreation time looking at animals, but you want to add to your coaster count, here are a few parks in the United States where you can get your animal and coaster fix during the same visit.
SeaWorld Parks – Orlando, San Antonio, San Diego
The three SeaWorld parks are among the nation's premier marine life attractions. Guests have the opportunity to get up-close views of dozens of marine species with shows and exhibits at the three parks, including orcas, dolphins, sharks, stingrays, seals and many more. While the parks all vary in size – San Diego: 189 acres, Orlando: 200 acres, San Antonio: 250 acres – each park will have their own unique coaster line-up of at least six roller coasters beginning in 2023. SeaWorld Orlando is highlighted by a trio (soon to be quartet) of roller coasters from Swiss ride manufacturers Bolliger & Mabillard with the Floorless Kraken, Manta Flying Coaster, and Mako Hyper Coaster (and a soon-to-be-announced #HighSurfAdvisory addition for 2023!) and the multi-launched Ice Breaker from Premier Rides.
Come 2023, SeaWorld San Diego will add its sixth roller coaster – Arctic Rescue from Intamin, joining its own Manta – a family launched coaster from MACK rides (no relation to the Orlando Manta), Electric Eel launched coaster from Premier Rides, and Emperor B&M Dive Coaster. SeaWorld San Antonio has six coasters of its own, highlighted by the Great Coasters International woodie Texas Stingray, Morgan hypercoaster Steel Eel, the B&M invert Great White, and Intamin family launched Wave Breaker: The Rescue Coaster.
Disney's Animal Kingdom
The largest Disney park in the world at 580 acres, Disney's Animal Kingdom opened in 1998, and houses hundreds of species of live animals. One of the park's signature attractions, Kilimanjaro Safaris, takes guests through the fictional Harambe Wildlife Reserve, and guests can get views of animals including lions, rhinoceros, hippopotami and giraffes. There are also primate exhibits and the Maharaja Jungle Trek. While Disney's Animal Kingdom used to have three roller coaster credits, the former Primeval Whirl coasters have since been removed, leaving Expedition Everest as the park's lone roller coaster credit.
EPCOT
If you're familiar with EPCOT, you might have gotten to this section and are thinking "No, you're wrong. EPCOT isn't the animal park. You already mentioned Animal Kingdom." However, what you might not realize is that EPCOT is home to the country's second largest seawater aquarium at The Seas with Nemo and Friends. (Formerly The Living Seas). At 5.7 million gallons, it was the largest in the U.S. from its opening in 1986 until 2004 when the Georgia Aquarium opened, and is home to more than 8,500 animals. While the "hydrolators" are long gone, the aquarium still hosts dolphin encounters and diving experiences.
Across the park from Nemo and Friends, you'll find Star-Lord and friends at the new Guardians of the Galaxy: Cosmic Rewind roller coaster, which opened in 2022. At nearly 5,600 feet long, it's the longest indoor roller coaster in the world!
Both Disney's Animal Kingdom and Epcot are two of our top "One Credit" Parks! 
Busch Gardens Tampa
Just over an hour down the road from Walt Disney World, you'll find another animal theme park at Busch Gardens Tampa. Considered Tampa's largest zoo with more than 200 species of animals. With areas of the park including the Edge of Africa and the Serengeti Plain, it's no wonder that the park was once named Busch Gardens Africa for a brief period of time. Inside Busch Gardens Tampa, you'll be able to come face-to-face with some of the animals that inspire names for the park's 10 roller coasters, including Cheetahs, Tigers, Snakes and the reptilian inspiration for the mythical "Iron Gwazi."
Highlighting the park's roller coasters are the aforementioned RMC hyper-hybrid Iron Gwazi, the Intamin Blitz multi-launch Cheetah Hunt, B&M Dive Coaster SheiKra, and the iconic B&M sit-down coaster, Kumba.
While not as animal focused as the Tampa park, Busch Gardens Williamsburg in Virginia also will have 10 roller coasters of its own in 2023, and has an aviary along with bald eagle and wolf habitats.
Six Flags Discovery Kingdom
Opened as Marine World in Redwood City, CA in 1968 (later relocated to Vallejo, CA and renamed Marine World Africa, New Marine World, and Six Flags Marine World) Six Flags Discovery Kingdom took its current name in 2007. The result of a failed animal park defaulting on its loan to the city of Vallejo, former Six Flags owner Premier Parks was brought in to manage operations and added new amusement attractions to boost attendance. Featuring a variety of land animals and marine life including giraffes, lions, sharks, dolphins, tigers, stingrays, and seals, Six Flags Discovery Kingdom hosts multiple "Marine World Experience" days later in the season where the park's animals, rather than the attractions, are the focal point.
However, when the animals aren't the focus, the park does have 10 roller coasters, all standing 150′ tall or under, due to local ordinance. In true Six Flags fashion, Discovery Kingdom's coasters share their names with others in the chain, but are different than their counterparts. Batman: The Ride is an S&S 4-D Free-Spin rather than B&M Invert, while Joker is an RMC conversion of the park's former Roar wooden coaster rather than a 4-D Free-Spin. Superman: Ultimate Flight is a Premier Rides SkyRocket II, rather than the B&M flying coasters found at other Six Flags parks.
Six Flags Great Adventure
When Six Flags Great Adventure first got its start in in the 1970s, the park and adjacent drive-thru safari were separate attractions owned by the same entity. In 2012, Six Flags made the decision to shutter the self-guided "drive thru" experience in favor of the Safari Off Road Adventure, which unified the two properties, giving Six Flags Great Adventure the distinction of being the world's second largest theme park, behind Disney's Animal Kingdom. Since the park reopened following the COVID-19 pandemic, the Safari has reverted to its original routes, giving guests the opportunity to drive through 12 themed areas in their own vehicles, experiencing more than 1,200 animals (80 species.)
With the most roller coasters on this list, Six Flags Great Adventure has 14 roller coasters, tied for fourth-most of any park in the United States. It's home to the world's tallest and United States' fastest roller coaster in Kingda Ka, five different layouts from B&M – Inverted (Batman: The Ride), Stand-Up (Green Lantern), Floorless (Medusa), Hyper (Nitro), and Flying (Superman: Ultimate Flight), and the single rail RMC Raptor themed to the local legend of the Jersey Devil.
Wild Adventures
The zoological-themed Wild Adventures opened in Valdosta, Georgia in 1996. Rides were added to the 166-acre park soon after. According to the park's website, guests can encounter nearly 80 different types of animals at the Herschend-owned property. While the park is primarily targeted towards families, Wild Adventures does boast six roller coaster credits, but no "new" roller coasters have been built at the park since 2003. The park coaster highlights include the Twisted Typhoon Vekoma SLC, the Vekoma Boomerang, named Boomerang, and a Maurer Wild Mouse coaster with the highly entertaining name of "Go Bananas!"
Oakland Zoo
Now we're getting into the more "traditional" zoo category. Originally open in 1922, the 100-acre Oakland Zoo in Oakland, CA is home to more than 850 animals. In 1999, the zoo opened Tiger Express, now known as Tiger Trek – a version of a Wisdom Rides "Dragon Wagon." It is considered an "upcharge" attraction like many of the other rides at the zoo, but admission to the zoo is not required.
Happy Hollow Park and Zoo
Elsewhere in Northern California, San Jose's Happy Hollow Park and Zoo is a smaller (16 acre) animal park that is an accredited AZA member, as well as IAAPA member. Alongside the park's 150 animals, you'll find the Pacific Fruit Express roller coaster, an E&F Miler Family Coaster that opened in 2010. "Jump into a fruit cart and hold on tight as you enjoy a ride inspired by the Valley of Heart's Delight."
ZooTampa at Lowry Park Zoo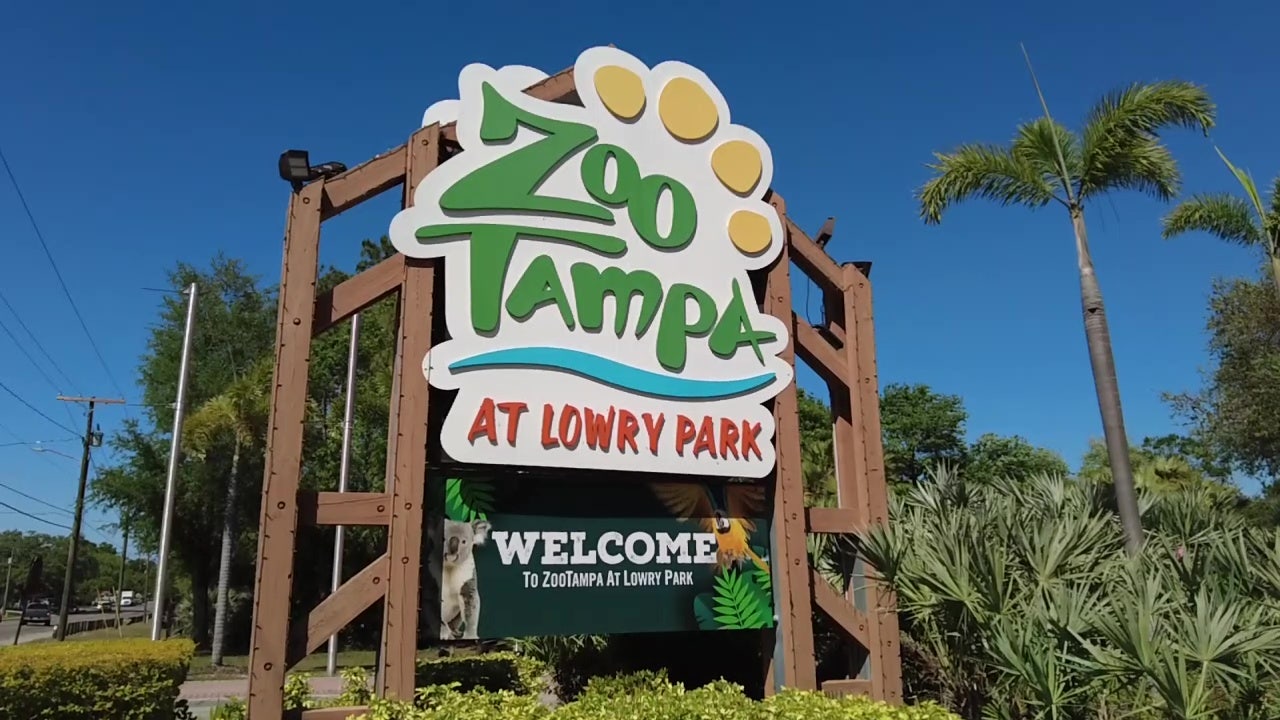 Tampa's "Second Largest" zoo at 63 acres and 1,300+ animals, ZooTampa has been host to a number of kiddie coasters over the years, including the Magic Dragon from 1960-1987, and another, unknown-named, Wisdom Rides "dragon wagon." The park's current roller coaster, Tazmanian Tiger, actually came to the zoo in 2008 from Wild Adventures, where it was known as Tiger Terror from 1998-2008.
Indianapolis Zoo
The first zoo in the United States to receive triple accreditation, the 64-acre Indianapolis Zoo is home to more than 1,400 animals, as well as one roller coaster – Kombo, which opened in 2001. A medium Tivoli model fro Zierer, Kombo takes its name from the Swahili word for "Curved" and features safari jeep-themed trains. There's also the unique Skyline, a suspended observation ride built by Chance Rides.
Wildlife World
Wildlife World boasts Arizona's largest collection of exotic animals across an aquarium, zoo and safari. It also unofficially boasts one of the top 5 tallest and fastest traditional roller coasters in Arizona with the Family Roller Coaster, a custom "Big Dipper" model by Chance Rides. Of course, there are only five traditional roller coasters in Arizona, and the Family Roller Coaster does not operate during the warmer summer months.
Columbus Zoo & Aquarium
One of the nation's largest zoos with 400+ acres dedicated to zoo operations, Ohio's Columbus Zoo purchased the adjacent Wyandot Lake (a former Six Flags property) in 2006. Most of the park was a water park that is now known as Zoombezi Bay, while the park also features a number of "dry" rides, including two roller coasters. The John C. Allen designed-coaster has operated on the property since 1956, while the new Zamperla-built Tidal Twist replaced the park's Redwood Falls log flume.
---
What's your favorite animal and coaster park hybrid? Let us know in the comments!